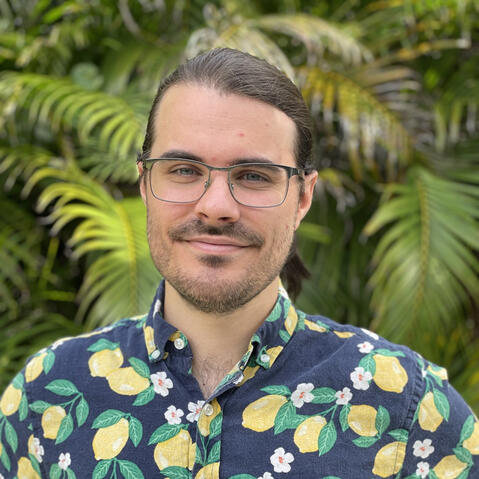 BRAD KRAELING
---
I am an indie developer in Seattle! My master plan is to save the world from boredom- one game at a time. I love to explore new ideas and I really enjoy game-feel, mechanics, and game systems. I love making games that players connect to- anything from single player story games to fun multiplayer games. I believe that interactive media can be super impactful and change the world.

I hope you enjoy my work- feel free to reach out to me if you'd like to chat!
Contact
Feel free to contact me about ANYTHING. Seriously.
Work/job related? Reach out!
Need gamedev advice? Reach out!
Want to just talk about videogames? Reach out!
My DMs are open on Twitter- that is probably the best way to reach me.
You could also send me a message over LinkedIn or Email if you'd prefer.
COMET CRUISER
Comet Cruiser is an retro aesthetic arcade game inspired by classic games of the past and the feeling of playing games past your bedtime. It was a lot of fun creating this game. I created all of the art/ sound effects, and programmed the game using Unity.

Some standout features include addicting "one more time" gameplay, a store to unlock different ships using in-game points, and high scores.

Play COMET CRUISER on itch.io!
RAVE BOSS
Rave Boss is a game where you play as a low-level MMO boss who dreams of being a world-famous EDM DJ. Face waves of "players" and show everyone that you have more power than expected!

The other members of Juice Squad Games and myself created this game for the Seattle Indies 2019 Game Jam in Seattle. I was the only programmer and focused on developing mechanics and systems for the game. There is a lot of really cool features such as a chat-box to witness how much rage you are causing the "players." The music is also dynamic and impacts the visuals of the game. I had a lot of fun adding JUICE and GAME FEEL to this game!

Play RAVE BOSS on itch.io!
MOON SWING
Moon Swing is a work-in-progress game that I am currently developing with my friend Daniel Beebe.

The moon has exploded. Use a grappling hook and bombs to maneuver through debris and rocks and figure out how to return to Earth. (Also since there is no sound in space all noises are represented using dynamic jazz music.)

After (many, many) unreleased prototypes in UE4 I finally made the plunge into my first official Unreal project using Blueprint and C++. Also this project utilizes FMOD which has been really fun to learn.

Honestly as far as Gameplay Programming goes this is easily my favorite and best work so far. The problems I've been working on and solving don't have tutorials or common documentation available so development has felt very much like "pioneering"- which has been really rewarding when things fall into place. I've been learning A LOT about 3D vector math and rotation math.

I can't wait to show further updates!
WELCOME TO THE ISLAND
Welcome to the Island is a game I worked on for Global Game Jam 2019. I mainly worked on programming the dialogue system, UI, and the day/night cycle. I also created the music for the game.

The project was created using the Godot game engine with GDScript. This was a very collaborative project- I had a lot of fun working with my team and learned a lot about the importance of controlling the scope of a project and working with tight deadlines. It was also my first time using Godot and GDScript so it was a fun challenge to learn something new in a quick-paced situation. We acomplished a lot in 48 hours and I'm very proud of the team. Also this game has a cat that follows you around which is really cool.
Which wizard?
'Which Wizard?' is a 10-player Online Social Deduction Game with a Magical Twist! Inspired by games like Among Us my team and I wanted to make something that people could play together and have tons of fun!

There is an Evil Wizard! Who could it be? Use your powers of investigation and magical abilities to charge the crystal or figure out and banish the Evil Wizard before you all are destroyed!

Online games are really fun to make- I used Unity and Photon to create this game and learned a lot about network replication and even got to play around with Shadergraph! The other members of the team Lil, Soraya, and Trent are fantastic to work with and I'm really proud of this game!

Oh! And the game also won "Best Multiplayer Game" at the Seattle Indies 2020 Slow Jam!

Join the Discord!
NONESSENTIAL
NONESSENTIAL is an Off-beat Comedic Drama About Mental Health and Life During a Pandemic.

My goal was to create a game that people could really resonate with. It was really challenging creating a game that handles such serious topics such as mental health and COVID-19 however I believe I handled the topics well. It has been really rewarding to see all the support and positive reviews the game has gotten and I'm so happy the game has been able to help people.

I went into creating NONESSENTIAL with the goal that ONE person would be positively affected by it and I'm honored that ONE turned into MANY.

Play NONESSENTIAL on itch.io!
What People Are Saying
"Holy f----ing sh-t. Thank you so much for this. I've been wanting to hear or play something like this. It made me feel so comprehended (?) For me it's a masterpiece and something I am grateful it exists. Thank you for developing and for publishing it. Holy sh-t, it's been a while since a game made me cry haha."

"This made me want to call all my friends and talk about my feelings T_T ...and I think I will :)"

"...This really captures what millions of people are going through right now, the stress, anxiety, loneliness... Serves as a good reminder for all of us to pick up the phone and call that one friend who might not be doing so great. Also reminds anyone in a tough spot that they're not alone, and that can really help when you have nothing else to hang on to..."
Featured in the LA Times!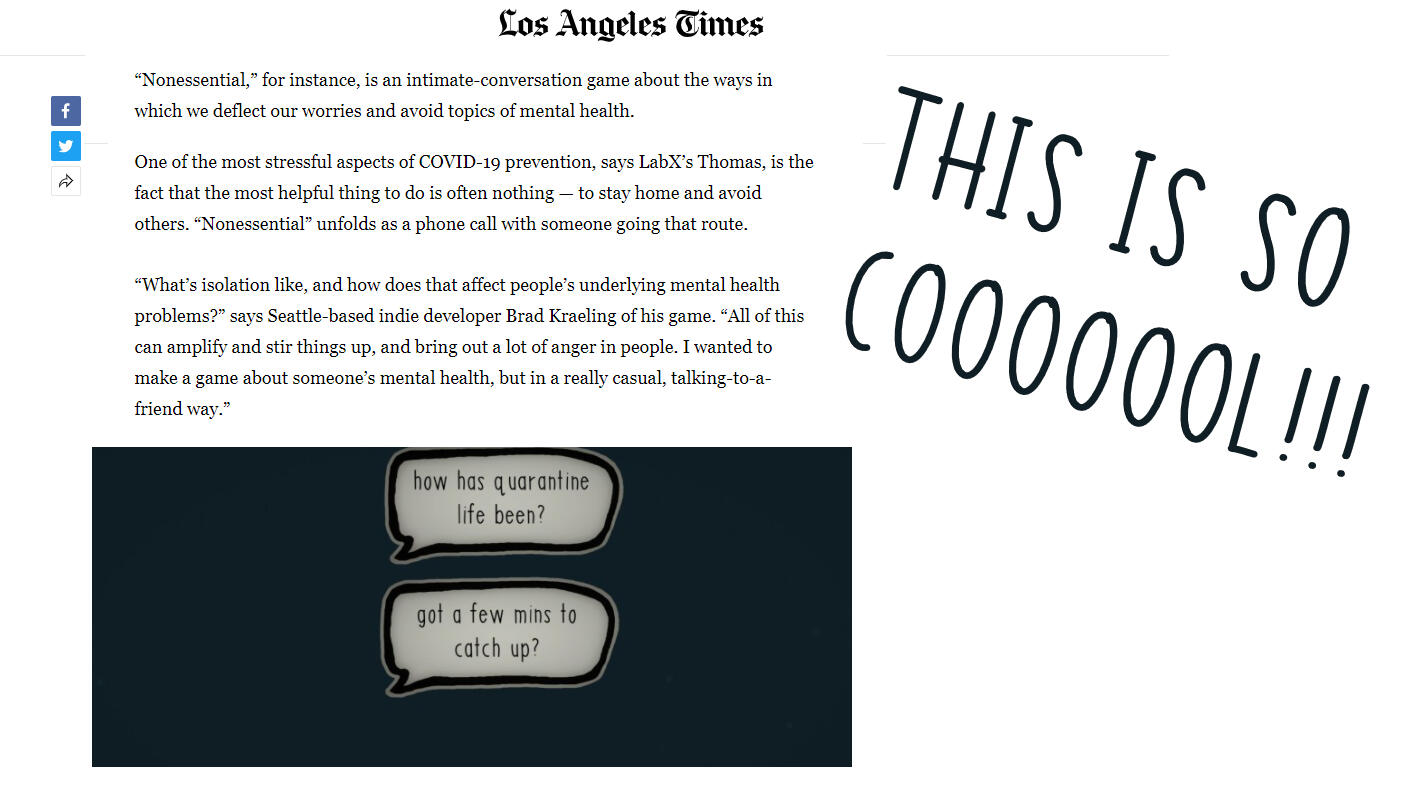 A Swift and Successful Onboarding
A Swift and Successful Onboarding is a game about choice. Will you follow instructions or will you follow the breadcrumbs? Things may not be as they appear at this E-Commerce company. Multiple endings may help you uncover the truth...

Many of my favorite gaming experiences have been caused by the effects of great storytelling. It was really fun to create an interactive-fiction that focuses on story, voice acting, and player options. It was really fun creating something that encourages so much player interactivity. Managing what the player could do at any given time and ensuring they have interesting actions that all worked together was a really unique challenge. Also shout-out to Erin Sterns who knocked it out of the park with writing dialogue (story joint effort), sound design and art!

Play A SWIFT AND SUCCESSFUL ONBOARDING on itch.io!
SUPPORT SYSTEM
Support System is an introspective puzzle platformer for one or two players.

Play as a character that can walk and jump in a desolate environment- but you aren't alone. A mysterious glowing ball can help you reach your destination. Toggle platforms on and off in order to complete the levels. This game relies on the player's ability to make a plan and execute it.

The other members of Juice Squad Games and I created this game for Global Game Jam 2020. I did all of the programming and designed a lot of the gameplay/levels. I focused on building modular pieces that could be used to create many different gameplay moments. I had a lot of fun creating this game - it has a really powerful atmosphere and I'm incredibly happy with how everything came together.

Play SUPPORT SYSTEM for FREE on itch.io!
BOO In TOWN
Boo In Town is a trailer I helped create for HYPE JAM 2020. Our team created this trailer in 48 hours. I put the art in engine and faked the gameplay shots using Unity and it's Timeline tools. I also took on the role of Project Manager to help everyone stay on the same page and ensure everyone knew key information.

Our team was recognized with the Judge's Choice Award, Community Choice Award, and an Honorable Mention for Excellence in Conveyance. It was a huge honor working with the other members of my team and I am extremely proud of the very polished looking results!
CREATE-A-GAME
Create-A-Game is a project I made in order to introduce young kids (1st Graders) to Game Development. A good friend of mine is a First Grade teacher and wanted to create a curriculum that would be highly educational, interactive, and most importantly- fun! I created a game in which players select what they want the game to have. Kids will be able to choose what kind of game they want to play. The goal is to allow young kids to realize that PEOPLE actually make video games and make decisions on art, sound, coding, and design.

I solo-developed and created all of the assets for this game. I created this game using Unity and it was a fun challenge to make a game where almost everything changes based on what players pick. I had a lot of fun making this game and it helped me with thinking of EVERYTHING as modular as possible.

Play CREATE-A-GAME on itch.io!

Below is the educational video I made to go along with the game! :D
BRITISH CAR TAG
British Car Tag is an online multiplayer game in which you can play tag with British cars. Run away from whoever is 'it' or switch around the game and see who can be 'it' the longest! Drive around with Arcade-style drifty movement, crash into each other, and have fun!

This is a project I wanted to do to venture into online play and data replication across a network. I used Unity and PHOTON to create a game where players can customize their own cars and play tag with each other. Designing and developing systems for multiplayer use is really really fun- I had a great time figuring out how each client would get needed information and using variables already synced on the network to have multiple uses.

This project is currently playable, but it has not been released. If you'd like to play just email me and I can see if we can arrange it. :D
META PET
Meta Pet is a fun, silly self-aware pet game inspired by games of the past such as Tamagotchi. Name your pet and interact with it! Your pet will react and talk to you depending on how you choose to interact with it.

I solo-developed and created all of the assets for this game. This app was developed using Java, XML and data is recorded using an SQL Room Database. I had a lot of fun creating this game and I plan to eventually recreate the app in Unity in order to implement new concepts and ideas I have for the game.

Download META PET on Google Play!